Top 10 Best Travel Beds for Baby and Toddler in Review 2017
Whether you are taking your child to outdoors, picnic, camping or staying over grandparent's house, the travel bed is a must to comfort your children. It is designed for the parents who love to hang out and would like to bring their children to their road trip. Our Teams would like to introduce you the best travel beds for baby and toddler, which keeping your child away from mosquito, flies and insects, safe for health, and let them enjoy taking a nap or sleeping. You can find the travel bed below on online website such as Amazon, Aliexpress and so on and so forth.
Here are the top ten best travel beds for babies and toddlers;
10. Buringer Baby Travel Bed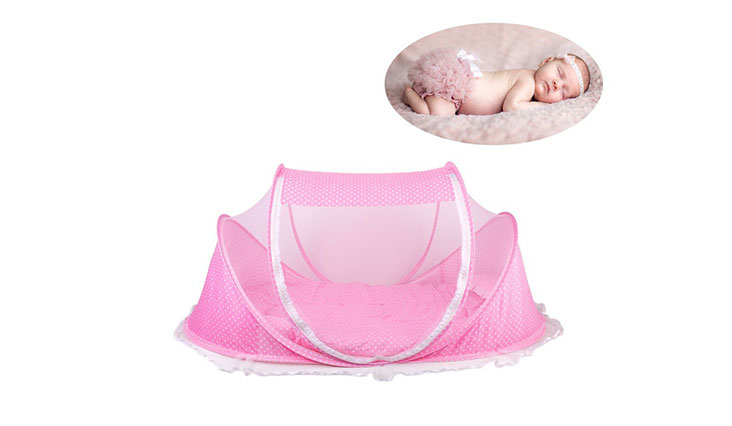 This is a hot new release Buringer 's nursery travel bed. It is available in pink and best for girls. It also includes 1 x mattress, 1 x baby pillow, 1 x mosquito net. The material is breathable mesh and cotton, which provides a virus free environment while keeps the air flowing and your baby dry. Besides, it can keep your baby away from mosquito, flies, insects and other annoying bugs, giving your baby a soft and quiet place to sleeping.
It is available in a great price with a good quality and safe for your baby and toddlers.
Item weight: 2.6 pounds
Product size (L x W x H): 110.00 x 65.00 x 56.00 cm / 43.31 x 25.59 x 22.05 inches
Package size (L x W x H): 47.00 x 59.00 x 6.00 cm / 18.5 x 23.23 x 2.36 inches
9. Baby Delight – Snuggle Nest – Surround XL – Silver Cloud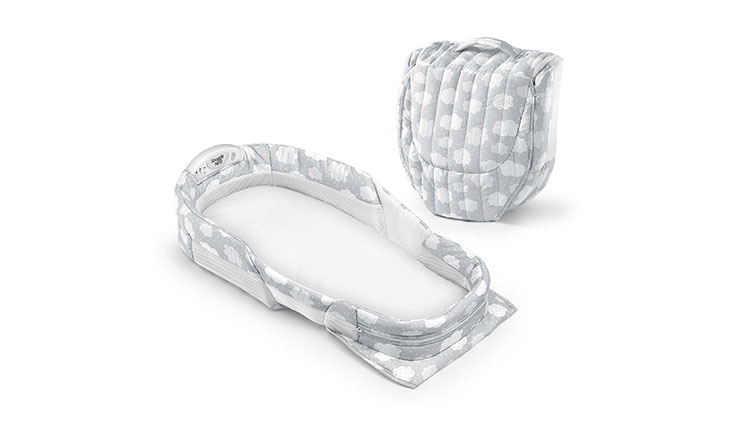 This baby travel bed can create separate sleeping space for co-sleeping babies in the adult bed and also for use as a travel bed or daytime nap. It is available in blue, pink, silver, gray/aqua and gray/white. More than that, it features sounds and lights with 5-level volume control and automatic shut-off allows the perfect setting for your baby's comfort. It also folds in seconds into a small case for compact and lightweight portability. It is great for a newborn baby that has trouble in sleeping. It is very compact and easy to travel with and, last but not least, it will be able to use until your baby learns to roll.
Weight 4.5 lbs.
Dimensions 30.5 x 16 x 5 inches
8. kilofly Instant Pop Up Portable UPF 35+ Baby Travel Bed + Sleeping Pad, 2 Pegs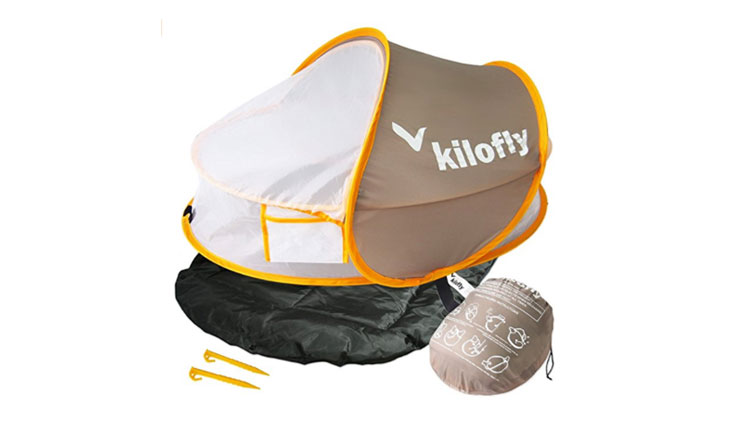 When you are taking your children to picnic, camping, especially on the beach, the travel bed will be the best item when your baby takes a nap or sleep. It is easy to set up, clean up folded back down in seconds. The Kilofly baby travel bed is surrounded with lightweight mesh and no padding inside the bed. Besides, it comes with 2-bed pegs and 2 anchor straps. Now, you no need to worry about the travel bed getting blown away. It can prevent your child from insect bites, along with UV Protected. More importantly, this baby travel bed uses certified non-toxic, lead-free, UPF 35+ (SGS lab tested) baby safe material.
Recommended for babies up to 80 cm (31 inches) long
Opened – 97 x 60 x 50 cm / 38 x 24 x 20 inch; Folded – 40 x 33 cm / 16 x 13 inch (Oval); Sleeping Pad – 97 x 61 cm / 38 x 24 inch£¨L x W); Weight: Bed – 380g; Sleeping Pad – 220g
7. Leachco BumpZZZ Travel Bed, Brown/Green Forest Frolics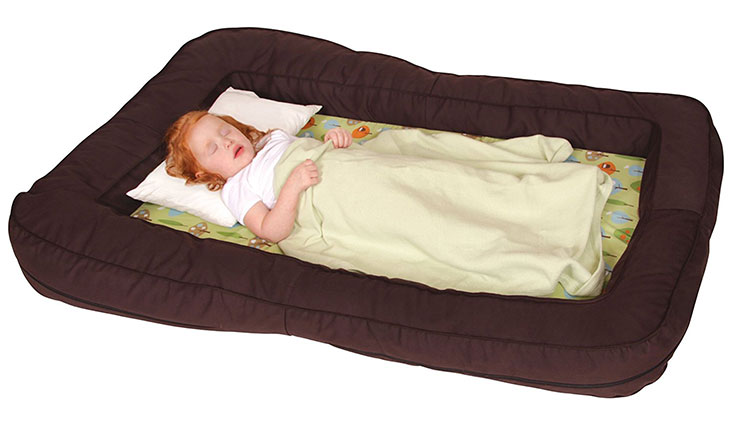 This travel bed is best for toddlers. It made from 100% Polyester; 100% polyurethane foam; polyester 50%/cotton 50%; Polyester 65%/Cotton 35%.
Moreover, foam padded center and cushioned outer bumpers for all around comfort and safety, usefully extended or folded over for a lounge cushion. More than that, It comes with generously sized, yet lightweight and folds into included bag for the perfect fold and go travel bed with nothing to inflate. Thus, Leachco BumpZZZ Travel Bed can go anywhere your toddler or older child goes, and it is always ready to comfort your babies and toddlers.
Entire Bed Assembled Size: 58 in x 39 in x 7 in, Bag Only Size: 29.5 in x 40 in x .5 in, Bed in Bag Measurements: 20 in x 37 in x 14.75 in, Bed Pad Only Measurements: 43 in x 22 in x 1.25 in
6. Summer Infant Travel Bed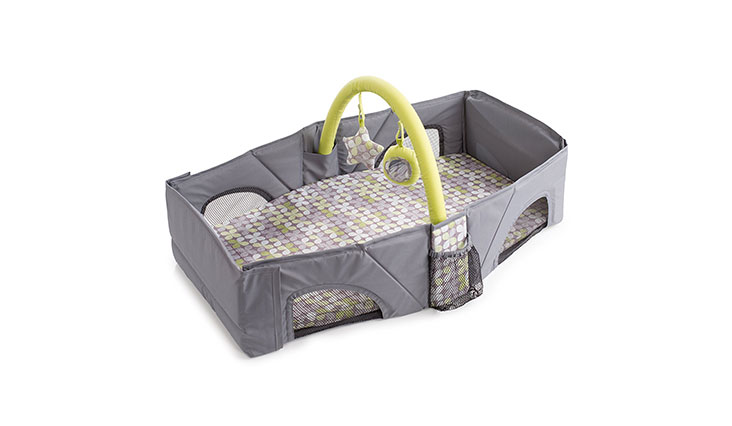 Having the travel bed, you can keep your little one close, knowing he is safe by your side. This travel bed made of Nylon and super lightweight, along with Easily folds with detachable carry strap for travel, which is perfect for a quick trip. Additionally, the premium mattress pad is comfortable for baby and easy for parents to clean. It simply removes the sheet and machine wash. The Summer Infant 2-in-1 Carry & Cover protect and prevent your baby from insects, sun, snow, and wind. More than that, the bed includes a toy bar with two cute toys to entertain baby during diaper changes.
Item Weight: 2 pounds
Product Dimensions: 19.6 x 13.1 x 4.8 inches
5. KidCo P4012 PeaPod Plus Infant Travel Bed, Midnight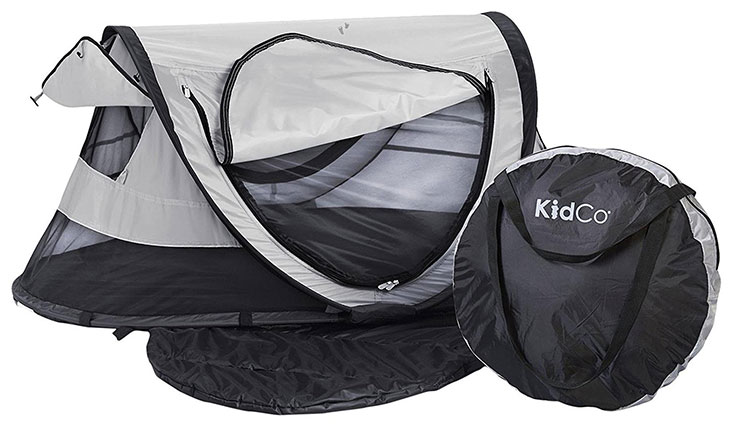 The KidCo PeaPod Plus offers the same great features and is just a little bigger than the previous one. It is just like a small tent for children 1 to 5 years of age. It is very lightweight and also available in kiwi and midnight. Besides, it can be folded and stored with the sleeping pad fully attached. It is easy to set up and collapsed into the pretty carry bag. In addition, this travel bed will let your baby have a great time in sleeping, napping or staying overnight at the hotel.
Item Weight: 3.6 pounds
Product Dimensions: 17.9 x 3.9 x 17.8 inches
4. KidCo Peapod, Cranberry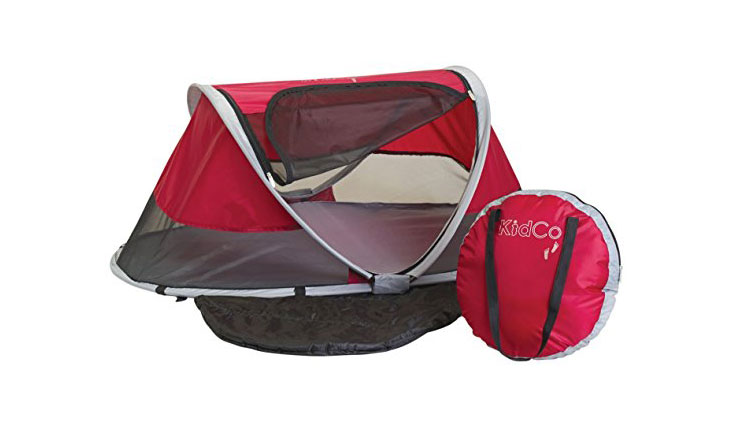 KidCo PeaPod is the ideal take along for sleepovers and hotel travel, which is best for children from 1 to 3 years. It's available in cranberry, midnight and sunshine. Moreover, it can fold up to fit into a standard size carry on bag for travel. The travel bed completely meshes and airflow is great. Thus, it is safe for your child's health. In addition, the mattress pad is attached underneath the entire pod, which means that it cannot move around inside and bunch up and provide a suffocation risk.
Item Weight             : 2.4 pounds
Product Dimensions : 14.7 x 4 x 15.1 inches
3. Graco Travel Lite Crib, Winslet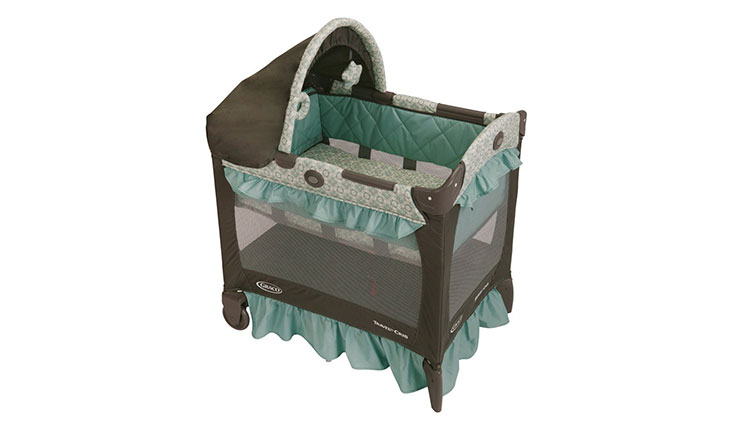 With a new design, this travel bed is smaller than the normal playard. It is available in Winslet as a picture and Nyssa. Because of its lightweight, it can fold and fit in the car and it is always ready to go wherever, whenever you want, especially, it can move easily from one room to room. Apart from that, Removable infant bassinet provides a cozy sleeping spot for baby, at home and away.
Playard is for use by children less than 35 inches tall and unable to climb out. The bassinet is for babies under 15 lbs and unable to push up on hands and knees.
Item Weight : 20.6 pounds
Product Dimensions : 22.8 x 32 x 29.2 inches
2. BABYBJORN Travel Crib Light, Silver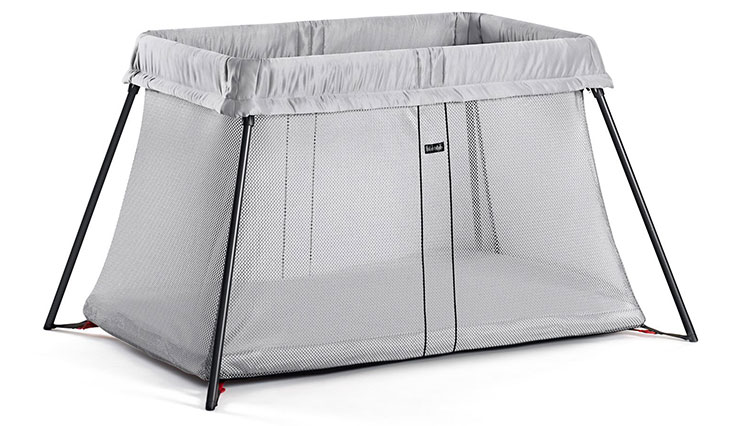 If you are looking for a big size travel bed that can use for your babies and children, this BABYBJORN Travel Crib Light is definitely perfect. It is also compact and lightweight. Because of its smart design, it is easy to set up and fold up, as well as fit in the car and save space. More than that, you can bring it on the plane for your great oversea trip. The crib light comes with a soft and comfortable mattress, making it a cozy place for your baby to sleep. You can also use the travel crib as a comfy extra crib at home.
Item Weight : 1 pounds
Product Dimensions: 44 x 25 x 32 inches
1. Regalo My Cot Portable Bed, Royal Blue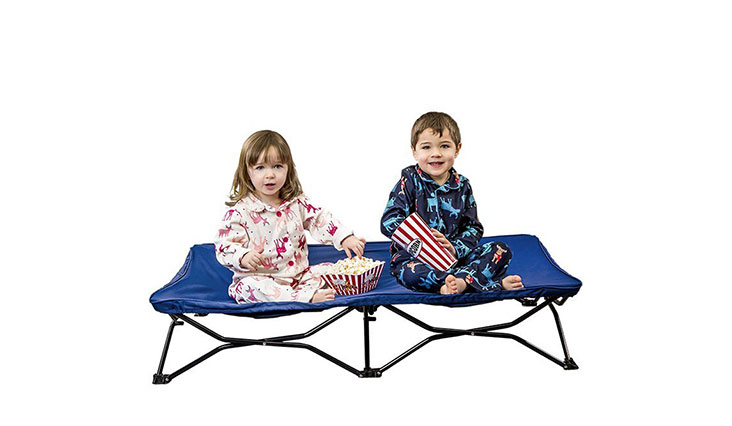 Regalo My Cot Portable Bed is the best seller in nursery travel seller bed on AMAZON. It is perfect for baby, especially toddlers. It designs to make sure that you and your children enjoy camping, or sleepover at grandparent's house. It made of durable steel, plastic and made in USA. It fits easily in your luggage, car, room and it is not heavy at all. The portable, lightweight cot includes a convenient carry case and sets up and folds down in seconds. Additionally, it provides the durable travel bed to let your child enjoy their sleeping, napping.
Item Weight : 6.2 pounds
Product Dimensions: 48 x 26 x 7 inches
Conclusion
As a baby and toddler are still young, parents might have troubles to bring along their children to camping, picnic, and road trip or oversea trip. Thus, having the best travel bed is a great idea for your special time with children. The top ten travel beds above provide you a sturdy and safe design, a safe place for traveling babies.
Thank for reading the article, we sincerely hope that you have found your favorite travel bed for your children. Put this in your order list now and be ready for your next amazing trip with your beloved one.