Top 10 Best Bike Chain Locks in Review 2017
Because the bike is lightweight, so it might not easy to protect from getting stolen, thus, the best way to keep your bike stay safe is looking for the best lock. We would like to introduce you the chain lock to keep your bike safe. The chain lock is thick, heavy and very strong, thus, it won't break or cut easily. That's the reason why choosing the chain lock is a best choice.
It is true that you can find many locks on the market, but to find the best lock for your bike is not that easy. Our team has gathered best 10 chain locks to protect your bike from getting stolen.
Here are the top 10 chain locks
10. ABUS 10KS 6′ Maximum Security Square Chain and Sleeve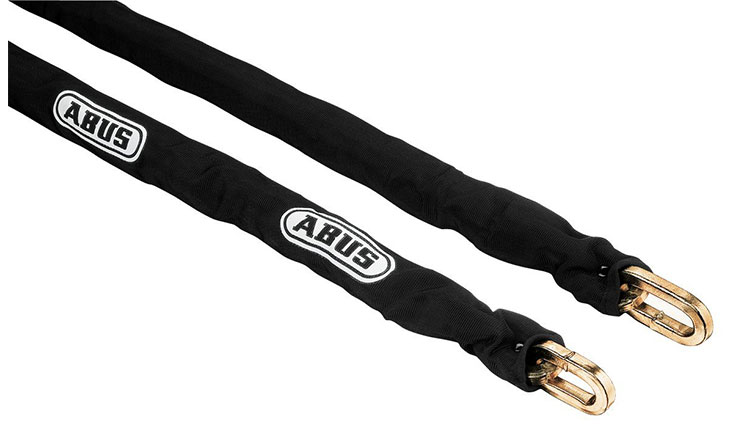 For every biker, a solid bike lock is very important for you. This model chain lock from ABUS 10KS is what you are looking for. It is 3/8″ diameter chain link. It is very thick, strong and heavy to ensure your bike safety. Chains made from hardened special alloy with special yellow zinc plating for superior corrosion resistance.
Moreover, the Nylon sleeve helps protect against scratches. It also designs with weather and dust cover as well. The chance that a thief can steal a bike, is very low because it won't be quick and easy for them.
9. Kryptonite New York Legend Chain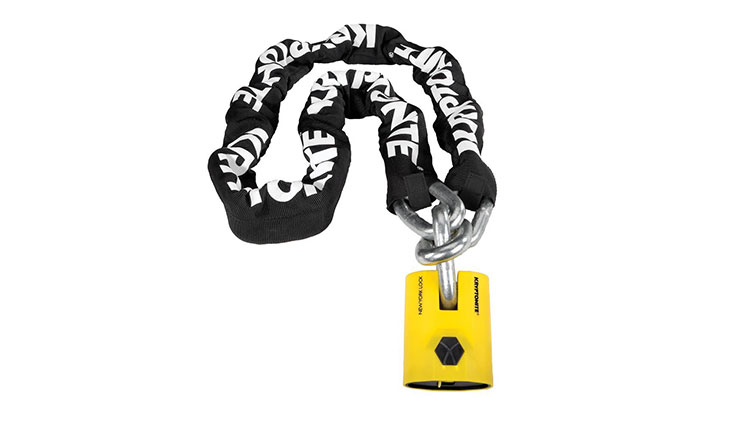 Your search for a valuable chain lock is over now. Kryptonite is the most popular chain lock brand. It is 5 foot 16 pounds chain, which is strong and heavy to make sure your bike is safe. The lock itself is also quite huge. It's covered with a thick plastic sheath that itself appears to encase a metal sheath. Furthermore, the sleeve is nice and helps keep the bike from being scratched.
Even though, it is expensive among the other chain lock, it is worth it because of its high quality materials that you will not regret to order it.
8. OnGuard 8019L Mastiff 6′ x 3/8″ Quad Chain Lock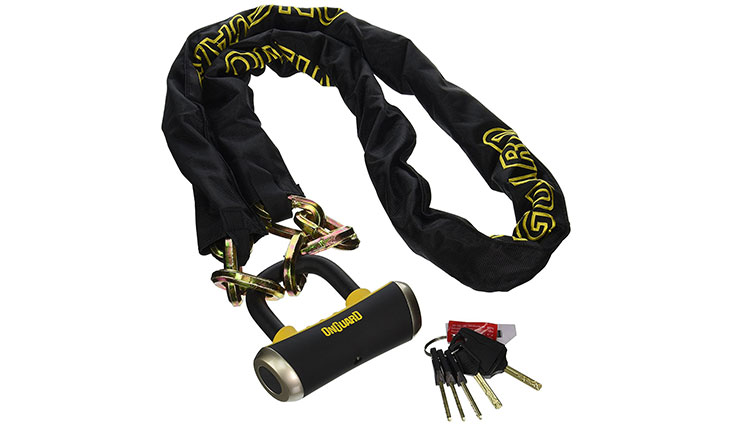 If you plan to buy a best chain lock for your bike, this 8019 L Mastiff model from OnGuard is a best model for your beloved bike. This model is available in 4 choices of size. It is X4 Quattro bolt locking mechanism, which is very safe and durable chain lock.
With Unique OnGuard cylinder, it offers optimum resistance against physical attack and picking. Moreover, Reinforced sleeve over crossbar and cylinder for additional security. Even though a thief want to steal your bike, it is not easy because of its heavy-duty materials.
7. Kryptonite New York Chain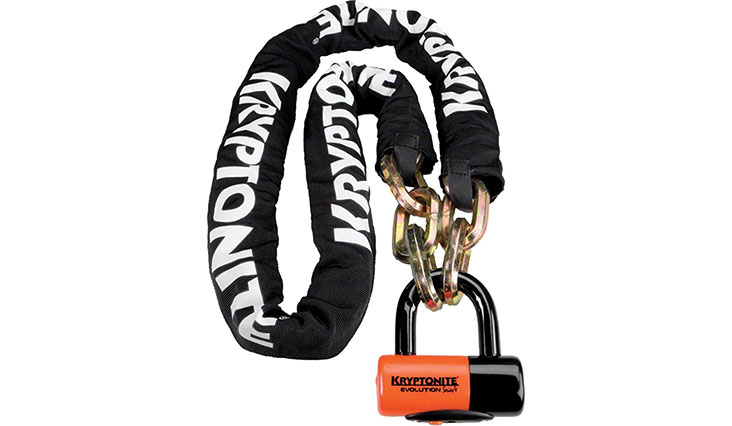 This is New York Chain with EV Series 4 Disc Lock from Kryptonite. It looks similar to the top 4 but it had different performances. It is thick, heavy and large chain lock that you can find on the market. It can stand and work well to any weathers.
More than that, the EV series 4-disc lock is 14mm hardened MAX-performance steel shackle with double deadbolt locking mechanism. Most importantly, it comes with 3 keys included, 2 new I keys and 1 high intensity lighted key with replaceable battery.
6. Sportneer Bike Lock Cable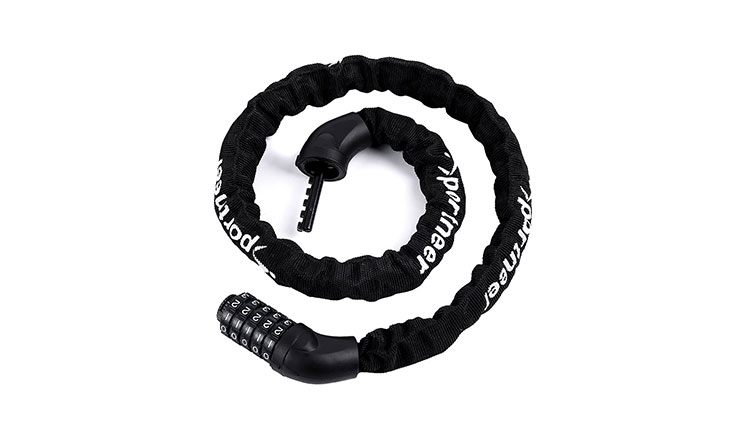 This unique cable lock is 3.2 feet long, ideal for bicycles, bike, lawnmowers, gates, fences, toolboxes, sports equipment and more. This lock has been known as both cable and chain lock because of its unique designs. The cable made from 0.27 inch thick that it is strong enough to prevent from getting cut or stolen.
It comes with the 5-digit combination lock, allowing up to 100,000 possible codes making it nearly impossible to crack. It is very easy to set and remove your password. Plus, it is a waterproof and dustproof cover.
5. OnGuard 8020 Mastiff Integrated Key Chain Lock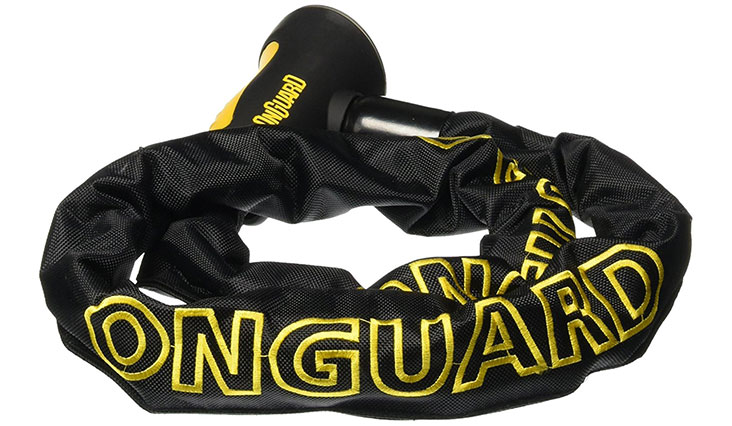 The OnGuard 8020 Mastiff chain lock is available in 4 options of sizes with different prices. It is strong, thick and durable that you should to lock your bike. It is X2 double bolt locking mechanism.
Apart from that, square steel chain links provide maximum cut resistance and Unique OnGuard cylinder offers optimum resistance against physical attack and picking. The chain lock also protected by weather, heat resistant and dust covers to ensure the long lasting use.
4. Kryptonite Evolution 4 Integrated Chain Bicycle Lock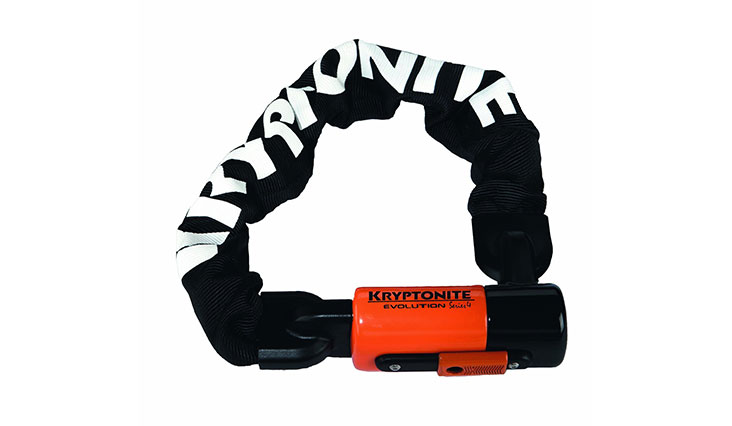 No one will take your bike with this news model chain lock. It is available in 3 sizes that allow you to choose. The hardened 3t manganese steel chains include 10 mm six-sided links. You don't need to care about the weather because the weather-resistant nylon sleeve prevents scratches to painted finishes.
More than that, this chain lock also features a LED bulb, which is very helpful to be seen during the nighttime. The set includes 3 stainless steel keys, 2 standard keys and one with a high-intensity.
3. Bike Lock, Foneso Security Anti-theft Bicycle Chain Lock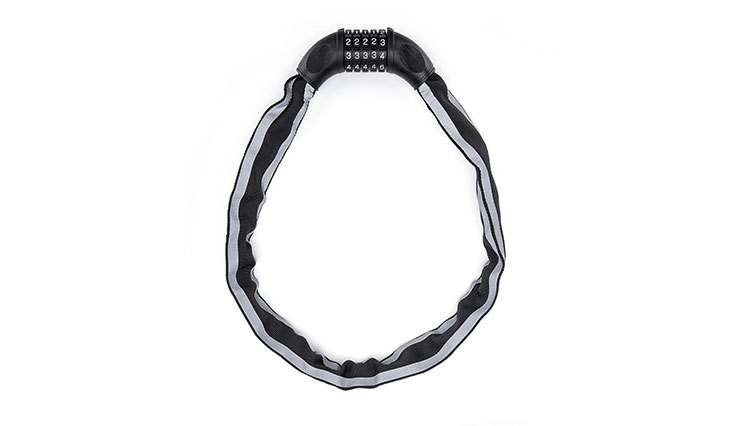 Are you getting bored of forgetting the passcode, so here is the chain lock that
Bicycle combination lock. It is available in black silver. It made with high quality manganese steel chain. Especially, it comes with 5-digit combination lock, which is safer than cable lock and Unlock. It is also easy and secure to set or remove the combination cable lock.
Additionally, it is big and less heavy than other chain lock models, which is best for home parking or bring it to anywhere. It designs with waterproof , dust proof cover and drilling prevention. Apart from that, the package also includes 12-month quality insurance guaranteed.
2. Kryptonite New York Fahgettaboudit Chain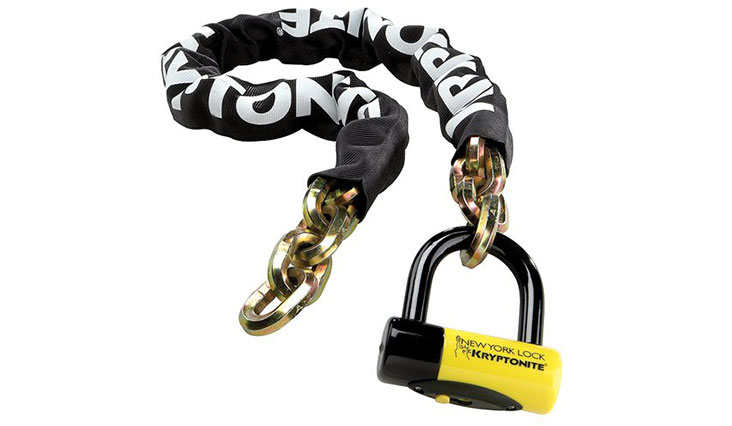 The Kryptonite is a well-known chain lock brand. This Kyrptonite chain with disc lock is perfect whether you're storing the motorcycle at home or you're on the road and staying in a shady neighborhood overnight.
It comes in lengths of 33″ and 5, which is very heavy. It covers by weather and heat resistant nylon cover. With a strong case hardened, tempered boron manganese chain for ultimate strength with a unique six-sided hexagonal shape. It would be easily cut.
The package includes a disc lock with one lighted key and two standard keys.
1. Kryptonite 785 Keeper Integrated Chain Bicycle Lock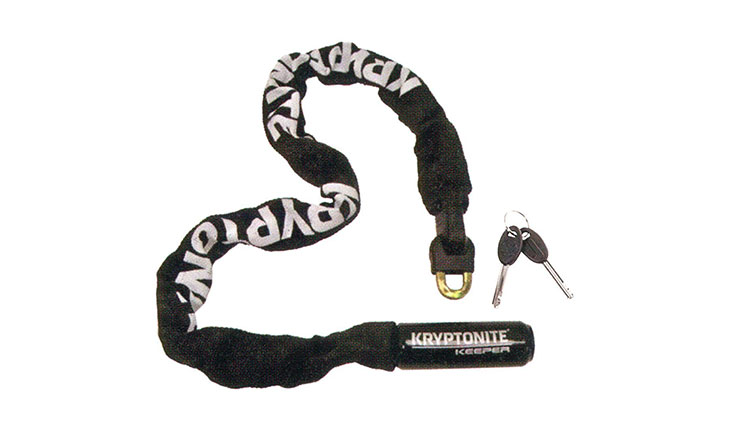 The Kryptonite 785 is the top seller on Amazon. It is available in 3 colors: red, grey and purple. It made from 7mm four-sided chain links, which is strong and hard to break. Keeper Integrated Chain secures with a new integrated lock head. Chain links are enclosed in a nylon-webbing sleeve to protect paint from scratches.
Moreover, New end link design secures chain to hardened deadbolt. The chain links are enclosed in a nylon-webbing sleeve to protect paint from scratches. Last but not least, when you order this chain lock, you will get extra key just in case you accidentally lose it.
Conclusion
All of these chain locks are all durable, high quality and best value for your budget. You don't need to spend more time to search on the market, while you can find best chain locks on the online market like Amazon. Make sure that you buy it from the brand owner in order to get a cheaper price than the local store or bike shop.
Our team sincerely hopes that this article has been useful for you. If you found this article is helpful, please keep supporting us. We will update more product reviews and guides more.